Coronation Service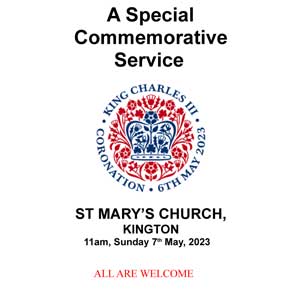 A Special Commemorative Service  to celebrate the coronation of King Charles 111 on Sunday, 7th May, 2023 at 11am at St Mary's Church, Kington.
You are invite to the celebration service of the Coronation of King Charles 111 at St. Mary's Church, Kington.
Followed by a "bring your own picnic" to the recreation ground Kington from 1-4pm
Children's games organised by Kington Youth Club, bouncy castle, fun quiz and cream scones.
The Cricket Club bar will be open plus a fun cricket match weather permitting
Related Events