Graffiti Classics – The Comedy String Quartet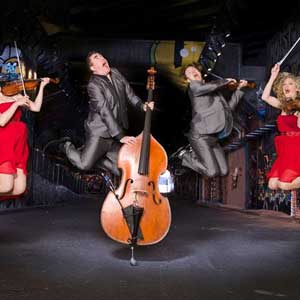 Graffiti Classics – The Comedy String Quartet
Age range: 7+
Graffiti Classics aim to burst the elitist boundaries of the traditional string quartet with their hilarious all-singing, all-dancing musical comedy show.
A classical concert, gypsy-folk romp, opera, stand-up comedy and a brilliant dance show all rolled into one, Graffiti Classics never fail to get audiences laughing, clapping and singing along.
Kids and adults love the uplifting and virtuosic variety of styles, all tied together with cheeky audience interaction.