KW Casserole Evening
13th April 2019 @ 6:00 pm
£8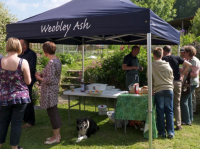 Casserole Evening
Our Spring Festival this year will include a casserole evening provided by David & Helen Pickersgill of Weobley Ash. There will be a lamb or vegetable casserole and a  bar with beer from the Swan Brewery, as well as home made desserts. It's a great opportunity to meet other walkers, walk leaders and organisers. Book your tickets soon, as the Tagine eveing sold out at our last Autumn Festival
David is famous locally for the quality of his lamb, hogget and mutton, but not everyone is aware that he is also an excellent cook. Come along and taste for yourself.
Thanks also go the Swan Brewery for sponsoring the evening, and congratulations to them for winning the 2018 Best Brewer award at the recent Hereford Times Food and Drink Awards.
For those visitors or locals attending the evening, Kington's little gem of a museum will be open from 5 pm until 8.30 pm very close to the casserole venue. Free admission, but donations much appreciated, our volunteers will be happy to welcome all those who would like to know more about the town, its history and some of the people who contributed to placing Kington on the map.